Happy Monday! This week's interview is a particular gem if you: a) can quote at least one movie or TV show line-by-line; b) enjoy amazing illustrations and c) have always wondered how to combine the two. Should any of these apply, you are onto a winner today.
You've quite likely already met 'Oh Gosh, Cindy's' work – her Cher-from-Clueless', 'Urgh, as if' print has been pinned and blogged all over t'interweb for quite some time now. But Cindy Lesman paints more than just 'Clueless' – personally, I'm all over anything Liz Lemon or Lesley Knope related, but there's something for everyone including 'Rocky Horror' and also, Beyonce. Running her own business straight out of University and getting her work onto celebrities is all in a day's work for Cindy. Find out all about her dream date (!) and what's up next for her below. Totally, like, not, 'whateverrrr'.
Oh Gosh Cindy – hi!
Firstly, can you introduce yourself and your work please? How has your background got you to this current point? And any reason for the, 'Oh gosh?'
---
Yes, hello! I'm Cindy, 22, and I'm currently living in the UK but I'm originally from the Netherlands. I do pop-culture watercolours, ranging from characters such as Cher from 'Clueless', to 'Breaking Bad's Walter White.
Last year I finished my Fine Art degree at Art School, where I graduated with photography. After graduation I wasn't sure what to do with myself. I'd always loved drawing, and wanted to try doing watercolours. They turned out quite nice, and I just kind of rolled into Etsy and it has been going pretty well.
I wanted a "quirky" name for my shop, and "oh gosh" is something I'd say quite a lot in Dutch, and I just translated it.
I'm guessing you spend lots of time watching TV and movies as research! What show are you currently obsessed with?
---
I can't really say I go out of my way to watch TV or films, I usually use the ones I've already seen. I like to have something on in the background when I'm painting, and at the moment I'm re-watching a lot of 'It's Always Sunny in Philadelphia'. I've been trying to watch 'House of Cards' as well, but it's a bit hard to get in to.
Do you illustrate full time? If not, what is your other job?
---
Yes, I do! It started as a hobby, but it has grown into a full time job.
What's your typical process like from inspiration to finished product?
---
Once I've found someone I'd like to paint I search for a few reference pictures to create the final sketch out of. Then I decide on colours, and just start painting. Sometimes it's a bit of internal screaming and ripping everything in a 5 meter radius to bits, but it's always turns out alright.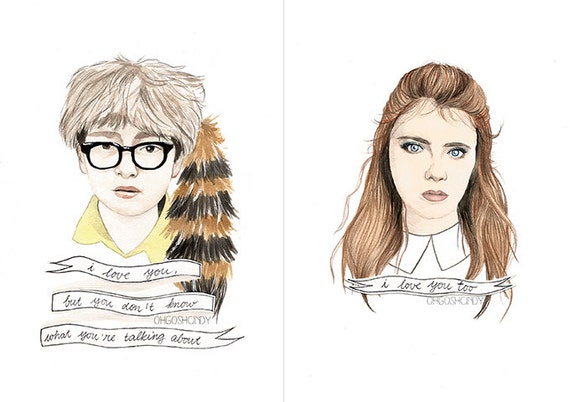 Moonrise Kingdom love print // £13
What's your proudest career moment so far?
Marina & the Diamonds' clothing line Eleven Diamonds used one of my illustrations in their current line, and it was definitely an exciting moment when I saw Marina herself wearing a shirt with my design on it.
Who would you LOVE to see wearing one of your t-shirts?
Definitely Charlie Day, eating spaghetti from a ziplock bag in a fancy Italian restaurant (with me as a date and garlic bread as a starter, of course).
Cindy's dream date: Charlie from 'It's always sunny in Philadelphia' tee // £25
What designers/magazines/blogs inspire you?
Tumblr is a really good place for me to get inspiration from. I follow quite a lot of art and designer blogs on Tumblr, it's such a good place to see a gigantic collection of different kinds of art. The "Girls Get Busy" zine is a favourite, and I also really enjoy Rookie Magazine.
What does the future hold for 'Oh Gosh, Cindy?'
I'm trying to see if I can do some "original" work besides just doing well-known characters. I tend to be quite a nitpicky perfectionist when it comes down to personal work, so that's holding me back a bit.
Any advice for aspiring illustrators?
In the words of the great illustrator Marc Johns; "Less clicking, more making". Zak Smiths's "67 tips for art critics" is also a really good thing to just read through.
So there you have it. She paints pop-culture referenced watercolours, admits to the occasional frustration with creating your own work, and provides some great inspirational people and places to check out too. Oh Gosh, Cindy – you're awesome.
If you want a piece of the action, you can buy Cindy's work on her Etsy page and follow her on Facebook, Instagram and Tumblr.